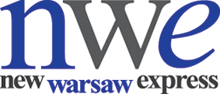 Artykuł pochodzi z pisma "New Warsaw Express"
Concern is rising about the swift exit of qualified Poles following EU entry on May 1. Buses to the UK from both Warsaw and regional cities are packed full of workers heading off in search of jobs. This week also saw the opening of two new website that aims to help Poles secure work in Ireland and the UK before they leave Poland - www.britainjobs.pl and www.irelandjobs.pl.
With the exception of Ireland, the UK and Sweden, older European Union members have maintained work permit requirements or other restrictions on Poles finding employment.