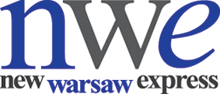 Artykuł pochodzi z pisma "New Warsaw Express"
Acontroversial German organisation, which last year enraged Poles with proposals for a Berlin-based centre to commemorate expellees from former German territories in Central Europe, has a new scheme that may make relations between the two countries anything but smooth after Poland's entry into the European Union on Saturday. The Expellees Union's (BvD) leader, Erica Steinbach, told Polish journalists this week she wants to organise a commemoration of the beginning of the Warsaw Uprising - in which Germans killed an estimated 170,000 Polish civilians and Home Army fighters.
Steinbach insists the celebration, to take place in Berlin on the 60th anniversary of the uprising on August 1, will be aimed at issues of conciliation. Poland's ambassador to Germany, Andrzej Byrt, was perhaps a little better attuned to Poles' likely feelings toward a "celebration" in Berlin, naming the proposal as one of three key sources of tension between the two nations over coming months. The others are the ongoing conflict over the new EU constitution and voting power, and a threatened new wave of German restitution claims for land confiscated after World War II.
STEVEN MULLER