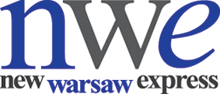 Artykuł pochodzi z pisma "New Warsaw Express"
The Palace of Culture and Science, a landmark Soviet 'gift' to the Polish people, is gradually disappearing from the Warsaw skyline. Although city authorities are still unable to come up with a definitive urban development plan for the surrounding area (Plac Defilad), skyscrapers rising west of the Palace are doing a great job hiding the totalitarian monument. In 2005 a new designer high rise will join the existing Warsaw Financial Center and the soon-to-be completed 45-storey tower of Inter-Continental Hotel. The German developer Hochtief has just unveiled the plans for its new EUR 200m investment
known as Rondo 1, which will fill the empty plot at Rondo ONZ with a 194-metre office building and an adjacent 10-storey retail and service structure. Its height ranks Rondo 1 as Warsaw's third highest edifice after the unbeatable palace and the former Daewoo building, now known as Warsaw Trade Tower.
Designed by Skidmore, Owings & Merrill, authors of the new NATO headquarters, Rondo 1 is likely to add some good architecture to Warsaw's chaotic city planning, though it won't necessarily make it more people-friendly.
Aleje Jana Pawla II, which pass through Rondo ONZ, have become the capital's business district, a glass-and-concrete yuppie paradise, which, however, has little to offer after hours apart from well-dressed security guards. Stripped of natural places where the city's social life could develop, first by World War II, then by communist central planning, Warsaw now falls victim to the sterile logic of capitalism.
[by Leszek Kaczanowski, NWE]